There's no bigger say than Giorgio Armani regarding design, style, and aesthetics. The owner of two yachts, Main and Mariu (after his mother), knew exactly what his luxury boat wouldn't look like even before it was conceived. "Sometimes they'd belong to people I knew; sometimes they were just chartered. Invariably they were not my style – too white, too much lighting, too much marble, crystal, and mahogany." His pleasure craft, 213-feet Main, is the embodiment of the Italian fashion designer's personal style lacking anything that attracts too much attention. The man who is a stickler for organization, and control, doesn't care for hotels, which is why he owns nine lavish homes around the world.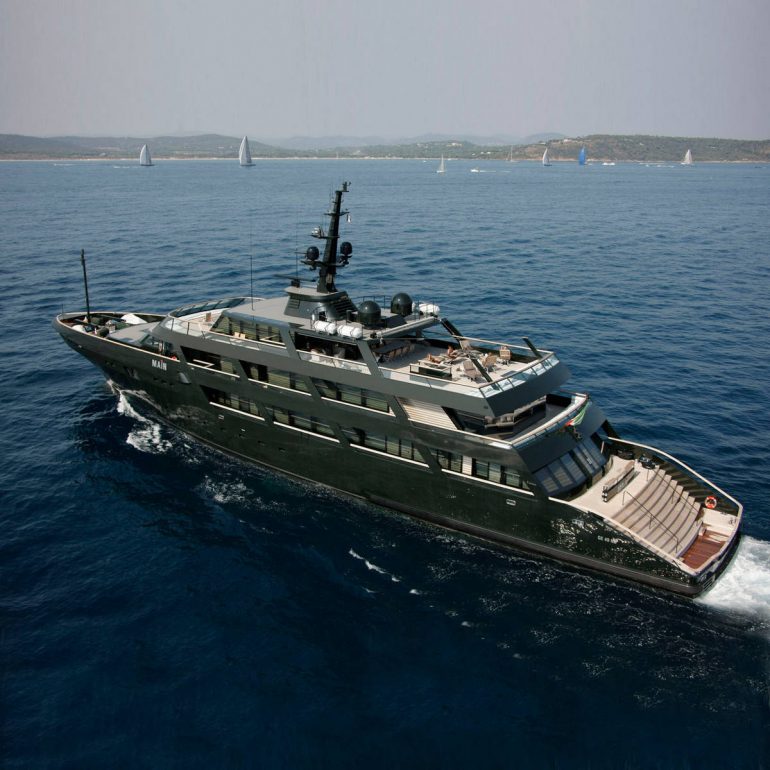 Similarly, when it came to chartered yachts, Armani was left unimpressed. His assistant revealed to Boat International that on one occasion, the legendary fashion force chartered a superyacht only to find her decked out in upholstery by another fashion designer! With four decades given to the world of form, design, and fashion, one can hardly fault the icon for thinking the way he does. Let's take a look at the marvelous $60 million Main superyacht to see what fashion looks like when floating-
Via Charterworld
Giorgio Armani's Main superyacht is unconventional, understated, and unbelievably chic
'Main' yacht built by Codecasa in 2008 is Armani's vision personified. The billionaire designer is responsible for the appearance of every nook and corner of his 213-footer boat. He shared, "Then came Maìn, which I designed entirely, from the hull to the interiors, putting in everything I consider important at sea and, at the same time, introducing a concept of the home. And so I designed not only things like the sunbathing and dining areas, but also the parts where people really live, the most private parts." Main's first striking feature (among many) is its military-green exterior. The color was intended to camouflage the boat, so it doesn't attract much attention. A purpose that's repeatedly defeated every time Main anchors. The unique selection of colors continues in the galley decorated with satined retro-lacquered glass. Even the ceilings are lacquered in metal grey, while the rest of the boat looks elegant in a lacquered dark green to match the exterior.

The $60 million Codecasa-beauty comprises six cabins for 12 guests serviced by a crew of 14 for a seamless luxurious sailing experience. The vessel flaunts a fantastic living area on the main deck. The sprawling space occupies most of it to accommodate both a sitting room and a fireplace area. As expected, attractive Armani Casa custom-made sofas accentuate the space, separated by stools and coffee tables. Towards the stern lies an intimate dining area. The most opulent area, without a doubt, is the owner's suite. The billionaire (Armani is worth $9 billion) revels in a room flanked by custom Armani Casa furniture and marble bathrooms.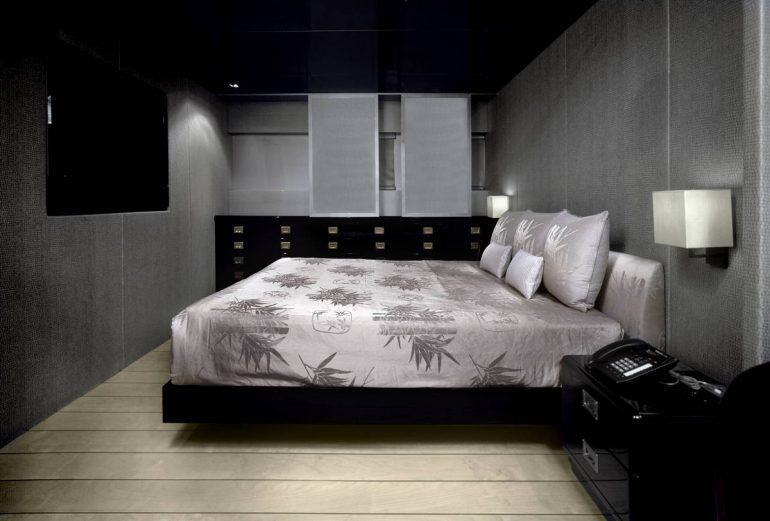 This room, like all others, incorporates a unique Venetian louvre blind device designed by Armani. The blind matches the theme in other cabins and acts as a wardrobe decoration. Giorgio Armani's suite boasts paneling made of precious materials and an antique Japanese cabinet. In addition, the Main superyacht includes a cinema, spa pool, substantial sundeck, indoor gym, and a tender garage on the lower deck.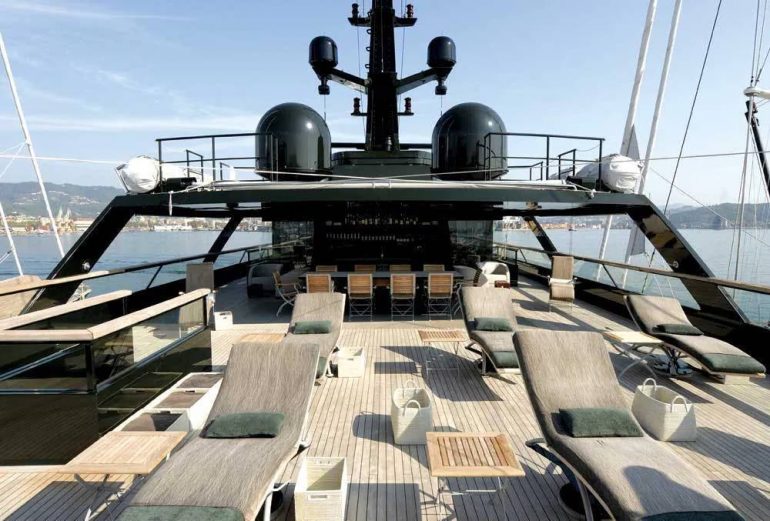 No place for rings or footwear on Giorgio Armani's floating paradise:
Armani doesn't host large parties on Main, but he loves company, and they obey his beloved ship's rules. The $60 million luxury vessel is operated by a crew uniformed in navy Bermuda shorts and beige polo shirts embellished with her logo. Even guests aboard the fantastic yacht have dress codes obligatory for all passengers. Rings are prohibited on a boat made with utmost love, vision, and the best materials as they scratch the finish.

Similarly, shoes are strictly forbidden, akin to a pristine, uncorrupted island resort. Armani himself stays onboard sporting his signature navy top and trouser combo, shoeless, in just a pair of white socks wearing his imperial Emporio Armani eagle, shared Vogue. The treatments and opulence of Main truly match the magnificence of the fashion icon and everything that bears his name.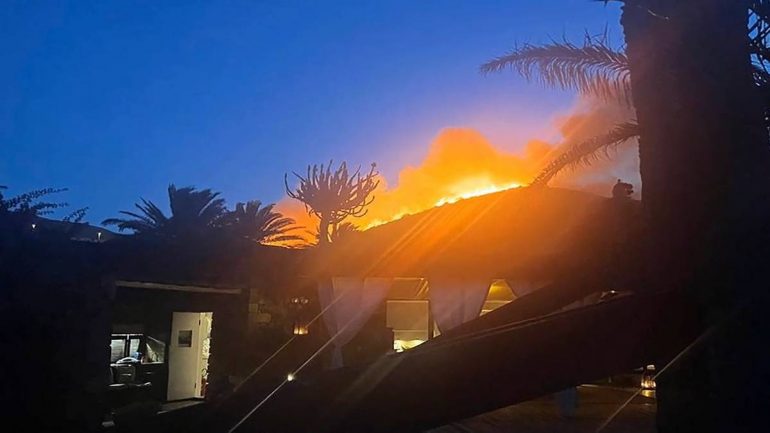 Via Youtube / @Haley Cooke
Armani and guests may have fled the wildfire in Pantelleria aboard the Main superyacht
Giorgio Armani owns a holiday home on the tiny volcanic island of Pantelleria, just off the coast of Sicily. The haven the designer described as his summer refuge witnessed unexpected action this week, forcing the designer and dozens of others to flee from their vacation villas overnight. Two wildfires broke near the mansion, where Giorgio Armani hosted several guests.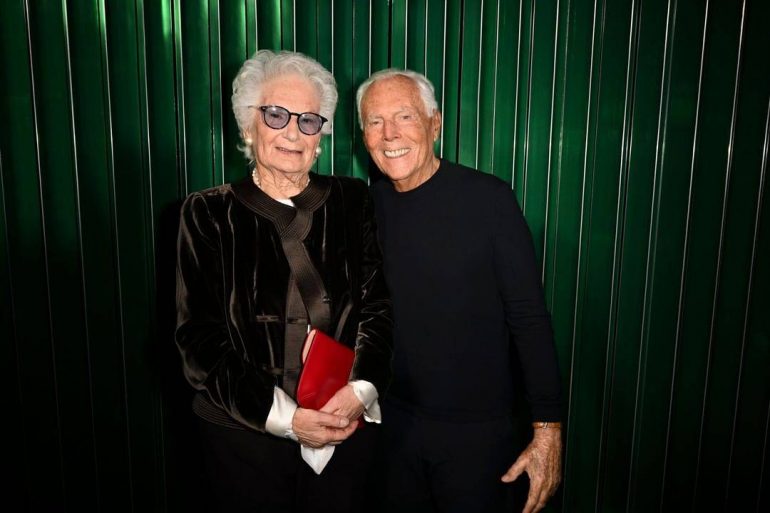 Via Instagram / @giorgioarmani
According to the Italian Fire Brigade, Armani used his private yacht (it had to be the Main yacht in all probability) to evacuate his guests and some neighbors as the fire closed in. The guests were then transferred to another vessel and taken to safety on the island of Sicily, around 60 miles away, reported New York Post.